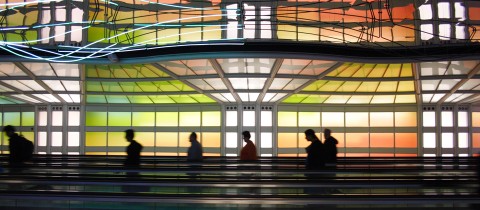 We've said it before: B2B buyer behavior is changing and it's high time that B2B suppliers follow suit. In this interview with Brian Walker, former Vice President with research giant Forrester, now Senior Vice President of Strategy at commerce software vendor Hybris, we discuss the changing face of B2B buyer behavior and what B2B companies need to do to stay ahead. The setting is freshly released research from Hybris looking in to online buyer behavior and the current state of online retail in B2B.
The bottom line is clear: there is still a lot of room for improvement – in fact, 94 percent of procurers indicated that B2B suppliers should invest more in their online purchasing experience. But how frightened should B2B suppliers really be? And what can forward-thinking companies across the B2B spectrum learn from the research?
We asked Brian Walker about his take on the changes in buyer behavior, what drives it and what this means to B2B companies looking to craft success in today's changing landscape. Here are the key points:
Believing that people do not buy high-value expensive products online will hurt knowledge-intensive companies in the long run.
Companies need to understand how their customers are using the web to do research and how the buying process today is often far too difficult.
B2B buyers have come to expect the same seamless and easy user experience when finding and buying products as consumers expect from companies such as Amazon.
Clunky and outdated sites or non-existent web presence has lead B2B vendors to switch supplier in two out of five cases.
Read the full interview and our opinion on the research below.
Understanding buyer behavior and delivering a seamless experience is key in today's online environment
Hybris' 2012 State of B2B E-Commerce Study whitepaper is based on research amongst 224 B2B procurement specialists with respondents' budgets ranging from less than $100,000 to greater than $5 million. We asked Brian Walker, Senior Vice President of Strategy at Hybris, for the rundown – here's what he had to say:
How is B2B buyer behavior changing at the moment and what is driving these changes?
"B2B buyers are behaving more and more like consumers. They now expect to use the web to find, research, and buy what they need for their businesses in much the same way they do as consumers. They need it fast and easy to use or they may just buy it from Amazon.com.
The web is now pervasive in all our lives, and as busy as everyone is now juggling emails, meetings, text messages, you name it, we need things to be faster and easier than ever in many facets of our lives. Employees now want to use the same technology and tools at work they use in their personal life and the same holds for getting things done. Dealing with a challenging process for a simple toner replacement, or even an expensive piece of machinery or report is a hassle and people now have the tools to deal with it in a faster easier way right from their smartphone or tablet while in between meetings or at the kitchen table helping their kids with their homework."
What do the findings mean for knowledge-intensive B2B companies working with more advanced solutions?
"The web has to be the definitive source for information, that information must be up-to date and enriched, and the ability to transact clear and available. There are myths out there that people do not buy high-value expensive products online. That is a myth we will continue to see erode over the next few years. Do not put barriers between your buyer and your products just because you have used a more laborious process for the last few decades or you are putting your business at risk."
What do companies have to do to gain and not lose from the changes highlighted in the report?
Companies need to really focus on understanding how their real customers are using the web to do research and how the buying process today is often way too difficult and not customer focused. Do not rely on the sales person's or CEO's assertion that they know the customer. Really study it and discover how the web – online, mobile, and even APIs – can be used to make doing business that much easier. Things are changing fast and before you know it a competitor may do something that really changes what customers expect. There is no need to be caught flat-footed." 
For an official copy of the hybris white paper entitled "2012 State of B2B E-Commerce," please contact kaylee.laudon@hybris.com.
There's no question that B2B buyers are moving online when finding information about new products or services. Three out of four respondents indicate that their preferred method for researching procurement supplies is online. Unfortunately B2B suppliers are not delivering. Seventy-one percent of respondents still work with vendors who don't offer any online ordering, despite the shift in buyer behavior and an overwhelming desire to buy this way. This is a real danger or opportunity depending on which side of the fence you're on. In fact, because of outdated catalogs and a lack of B2B e-commerce functionality, two out of five respondents have switched suppliers due to difficulty finding product information.
What does this mean? Your company, brand and offering is likely to have several touch points with your prospective clients and your site is not likely to be the first. This highlights the need for digital strategy and creating relevant, easy to share content. You want to make sure that prospect will not only find what they need but can find it easily and in a suitable format. An integrated digital strategy and optimal planning and distribution of content are key to success in this information-based landscape. An effective online presence and digital strategy enables B2B suppliers to take advantage of marketplace opportunities that are simply beyond the scope of traditional sales tactics.
Like this post? Subscribe now and get notified about new content!