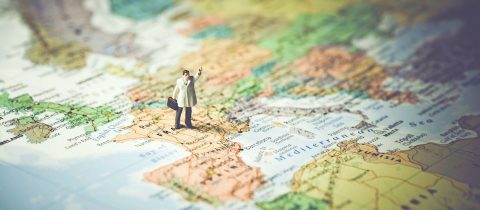 Globalization means large multinational corporations all over the world are waking up to the benefits of working with a hybrid international agency. BBN has appointed a Director of Global Development with a proven track record of delivering high-impact results in marketing and communications on an international scale. The opportunities await.
cylindr BBN was selected to represent Denmark as part of BBN, the world's B2B agency, allowing us to share our insight as part of the Danish market and to benefit from a wealth of knowledge from our global colleagues. As clients increasingly expect more from their agencies, the new model of international collaboration between B2B agencies means that we can offer the full breadth of marketing skills and expertise in local markets around the world.
Our colleagues in Tokyo, Japan, for example, understand the cultural nuances when it comes to doing business in this forward-thinking, yet still very traditional, country. Clients wanting to break into the Japanese market can be confident that cylindr can deliver strategies tailored to the unique local needs and create work that suits the culture.
With more than 1130 B2B specialists spread over 27 countries and 40 office locations, BBN defines what it means to be an international collaborative organization. Its underlying structure of all agency partners being equity shareholders is advantageous because partners have a vested interest in the success of the global organization. We're not just 'members' of BBN, we're all offshoots of one big agency.
And it's an agency that recently bolstered its portfolio of talent and expertise by appointing Yves Romestan to the role of Director of Global Development. Alongside BBN Chairman Clif Collier, the Board and the central BBN team, Yves will be developing innovative, long-lasting partnerships across the globe.
In addition to his new role with BBN, Yves will continue in his positions as Executive Vice President of ComCorp, Professor of Economics at the European Institute of Business (IEA) and a director of two promising start-ups.
Yves' impressive international career includes senior leadership roles in marketing and communications with large multinational companies including Total, Lafarge, Bouygues and both the UK and US arms of Walgreens Boots. A remarkable track record, to say the least.
A citizen of both France and the UK, Yves is a graduate of the Paris Institute of Political Sciences and holds a degree in Public Law from the University of Paris I: Panthéon-Sorbonne. This global perspective and wealth of experience on an international scale are sure to come into play as he fosters business connections around the world.
In a press release issued by BBN, Clif Collier says: "We are delighted to welcome Yves to our international management team. Thanks to his extensive experience, international perspective, leadership and energy, he will be an invaluable asset to BBN's future growth. This great addition to our team further drives our ambition in becoming a truly global player in our industry. BBN is now well structured and positioned and the future is full of incredible opportunities."
Yves shares his excitement about joining BBN as Director of Global Development saying: "I am pleased to be joining such an auspicious organization. BBN is growing at an exciting pace with agency-partners having established strong positions in their respective geographies. Moving forward, the aim will be for BBN to shape an attractive alternative. The market is currently going through massive change, and I'm convinced global corporations will soon consider, and consequently, opt for the hybrid model uniquely offered by BBN."
Here at cylindr BBN, we are confident that Yves' enthusiasm, senior leadership skills and global experience will complement BBN and help us build on our track record of creating meaningful and memorable human stories on a global stage. With Yves on board, we have no doubt that our Denmark-based agency will strengthen our relationships both with existing clients as well as potential ones.
And don't just take our word for it. Benedicte Couturier from BBN's France-based agency, ComCorp convincingly describes just how important collaboration is for innovation.
Like this post? Subscribe now and get notified about new content!