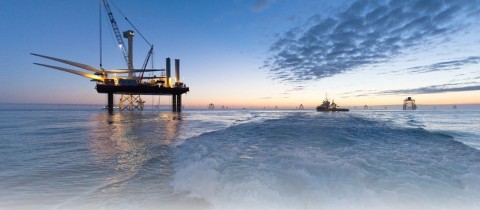 How has one company installed over 60% of the world's offshore wind turbines? The difference is knowhow – but something had to be done to make sure the market truly recognized and valued that difference.
A new communication objective
Working closely with A2SEA's management team, our B2B consultants identified a very tightly focused objective for the A2EA Advantage project. For competitive reasons, I can't share this objective with you in detail, but it is about making A2SEA's knowhow more visible and more accessible for those involved in planning wind farm projects of various kinds.
In some contexts, the company aims for such people to contact its experts earlier than they normally would in the planning process, opening the door to A2SEA's physical presence at the planning table. In other, more restricted contexts, such as tendering process stages where suppliers are not allowed to be directly involved, A2SEA wants to still be able to bring its knowhow to the table, encouraging the use of online or printed planning tools the company makes available. These might be, for example, checklists of things to remember when designing a wind turbine installation process.
Why is A2SEA so keen on getting its knowhow earlier to the table? Because experience has shown that, almost every time where its knowhow is involved early on in a project, the outcome is simply better for all parties. And, since delivering smooth-running projects (on time, on budget and without safety incidents) is what A2SEA's customers most want it to do for them, it's a good recipe for success in an increasingly competitive world.
What it takes
Of course, having a clear objective is just one part of a good strategy. Having a clear plan to arrive at that objective is another. And finally, having what it takes to execute that plan is absolutely vital. Together with management, therefore, we evaluated the company's core assets, its core competencies, and its values. We identified the building blocks of a new internal and external communication strategy based on the way in which A2SEA's people work together and with its customers. Flexibility, openness and teamwork were highlighted in this part of the process – and strategies were put in place to build upon each of these both as behaviors and as market messages.
On A2SEA's competitive battlefield, flexibility, openness, teamwork and, of course, knowhow are key to winning new deals and ensuring repeat business. Already defined as competitive strengths, the task now for the company is to boost each of these assets, developing them further and making sure they extend throughout the company, both on land and at sea – and at every touch point where A2SEA's staff come into contact with customers and contract partners.
These core assets, core competencies and values are the foundation of the company's continued success. But it needed to take another step: producing a clear plan that outlines what we call "must-win initiatives".
In the next and final post in this series, I talk about these initiatives – and the concrete materials and activities that brought them to life.
Like this post? Subscribe now and get notified about new content!