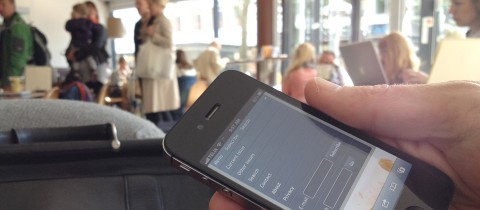 As we've seen in the recent launch of the "Facebook phone", smartphones are one of the hottest battlegrounds in business at the moment. Mobile is the new frontier, and for B2B companies today, just having a great website and being on social media isn't enough; companies need to think in terms of multi-channel strategy.
For most B2B companies, a mobile strategy could have two tracks. One could simply be to have a mobile-friendly website so that anyone browsing your site from a smartphone will have a great user experience. The other option is to develop a mobile application; more complex, but potentially more valuable for your company, your brand, and your customers and prospects. Those that download your app will either be customers you can get closer to, or prospects you can build a relationship with.
Smartphones are the future
Just about every B2B employee has a smartphone and while they may currently only be downloading games to play while waiting at the airport, there is a real opportunity for companies to offer them apps that are relevant and useful to their jobs. Think of their smartphones as uncharted territory onto which you want to plant your company's flag.
The market for B2B apps is rapidly expanding and represents an important tool that companies need to be thinking about. Below are five examples of possible B2B apps. Could one of them work for your company?
1. Event App: Create a one-off app with exhibit maps, session schedules, speaker bios, and attendee contact information for networking and stream messages with your event-specific hash tag.
2. Return-on-Investment Calculator: Build a company- or industry-specific ROI calculator so that your employees, customers and prospects can quickly calculate the ROI of projects.
3. Alert App: Some industries need up-to-the-minute information; apps can be used to create faster alert systems to keep everyone in the know.
4. Supply Ordering App: Make it easier for your clients to order new stock by scanning bar codes of products they need more of. Bring the customer experience of Amazon to your industry.
5. Thought Leadership App: If you're an industry leader in thought leadership, let your readers access content from a special app, rather than just a mobile-friendly website.
These are just a few ideas, but depending on your industry and your customer and prospect needs, the possibilities are endless.
Value across the board
Offering B2B apps is part branding, part engagement, and part market research.
Developing an app can boost your company's brand as an industry leader and first-mover. Competitors stuck producing traditional corporate brochures and press releases won't stack up to a company offering modern and useful mobile apps, especially if it is part of a broader multi-channel strategy. Just like a lot of companies are now producing thought leadership material, apps offer the same ability to produce value-added tools to your stakeholders, rather than propaganda.
Apps function in a way that allows companies greater engagement with users. Whether via direct messages, pop-up ads, surveys or reviews, apps offer a new way to engage more with key stakeholders.  And, analytic insights can show what app features are being used, how often they are used, and when they are used. The combined result of this engagement and insight is up-to-date market insights about your products and services.
What now?
As a starting point, set up exploratory discussions within your company and start looking into how you can engage customers in the mobile arena. Is your website mobile friendly? Is there potential to build useful apps? What are your competitors doing (if anything)? You may well find that it opens the doors to more opportunities sooner rather than later.
Like this post? Subscribe now and get notified about new content!