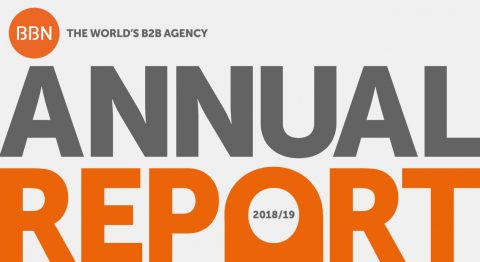 International B2B marcomms agency BBN, represented by cylindr in Denmark, has released its annual report for 2018/2019. BBN's position as the number one international business-to-business agency has been reinforced by growth across all key figures.
cylindr, the Copenhagen office of global marcomms agency BBN, has announced the release of BBN's 2018/19 annual report. The past year saw growth across all key figures, reinforcing BBN's position as the number one international business-to-business agency.
Total sales across the BBN group increased by 12 percent from the previous year, hitting a record USD 172 million. EBITDA also increased by 11 percent to more than USD 7 million. BBN has also increased its number of member agencies and is now represented in 30 countries.
The annual report is available on BBN's website.
Creativity is still the key
In the annual report, Clif Collier, BBN Executive Chairman, highlights the combination of creativity and technology as being the key to BBN's continued growth.
He writes:
"In the past 15 years, our industry has changed beyond all recognition, and the pace of that change has dramatically accelerated. Martech has transformed the way we communicate with clients entirely. However, it is still that spark of creative inspiration that makes or breaks a campaign. There is still an element of 'magic' – that thing that really speaks to the target audiences' hearts and minds, that resonates with them, that touches them emotionally in this oh-so-rational B2B decision-making process."
B2B fuels global business
The annual report contains a commentary about the size and impact of the B2B market, which typically flies under the radar in global business.
David Hoskin, Managing Partner of cylindr, BBN's Danish office and 2019 winner of Agency Partner of the Year, believes that this annual report demonstrates a remarkable achievement by the agency in a fast-changing international commercial environment:
"Many industrial and technology companies are being hit with increasing competition, not just from new entrants to the market, but also by the changing geo-political landscape. This makes it even more critical to be visible to the audiences that count, especially in local markets.
"The numbers speak for themselves. At BBN, we have a unique proposition in that we are able to work directly with our customers in their home markets, while also being able to work with local teams in foreign markets targeting very specific audiences. With more than 300 customers in 23 B2B sectors, it's clear that our unique offering is appreciated by customers in Denmark and around the world."
International diversity
In the BBN annual report 2018/19, you can see details about BBN's executive board and its financial performance, as well as details of BBN's diversity program, which is just one of the initiatives launched within the global agency.
BBN's talent pool across the group has grown by 197 new full-time employees in the past year. With 45 different nationalities spanning 35 different languages, these new additions have resulted in even more diversity in the agency.
The annual report also contains examples of the international marketing strategy and communications work being done by BBN partners – from product marketing and brand strategy to demand generation and personalised account-based marketing campaigns.
The annual report is available on BBN's website.
Like this post? Subscribe now and get notified about new content!