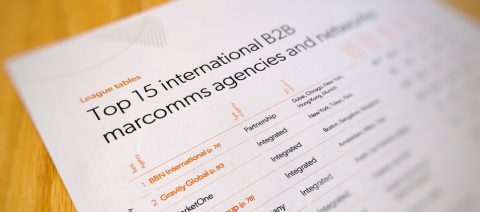 BBN has ranked number one in the B2B Marketing top 15 international B2B Marcomms Agencies League Table in 2020. Inclusion in this year's report at the number one spot reinforces the growing perception of BBN as a credible, new-model B2B agency.
In the 15th edition of the UK B2B Agencies Benchmarking Report, B2B Marketing reveals the definitive rankings of the UK's top 90 B2B marcomms agencies, as well as the sector's top global agencies, its fastest-growing agencies and leading PR agencies.
With more than 1,000 B2B specialists across 30 countries, BBN secured USD 171 million in global billings last year. This supported the agency's inclusion in this year's report, which is based on gross income.
BBN's Chairman Clif Collier is delighted to see BBN come in at number one this year internationally:
"They say size matters and whilst it is important to our clients to know we have the international reach to support their businesses, what is more important is the depth of our experience in virtually every industry sector, underpinned by the strategic, creative and technical expertise to deliver results."
David Hoskin, Managing Partner at cylindr (BBN Denmark, Copenhagen) is impressed by the strong connections between partners in different regions.
"While it is great to achieve the status of number one agency, the real measure of success is how well the partners work together to deliver outstanding client successes. This is where the real potential of BBN lies and it is something that drives us at cylindr."
Peter Lyall, Director at BBN UK (Aberdeen) highlights the significance of over 1,000 people in 30 countries working together:
"It takes structure, organisation and agreed methodologies. But more than the formalities, it shows that a hugely diverse global team can be united by something less tangible … a common purpose. The status of being no.1 shows that the fact that people want to work together for mutual benefit means that they can."
Rich Thomas from BBN Switzerland agrees that getting to number one is a great endorsement of the entrepreneurial approach we have at BBN. He says: "As an agency, our focus has always been on advancing B2B thinking in order to deliver cutting edge solutions for our clients. The organic growth of both our capabilities and geographical reach feels like a natural consequence of that mission. It's extremely motivating to see our name at the top of the list, and we'll be working hard to keep it there."
Like this post? Subscribe now and get notified about new content!