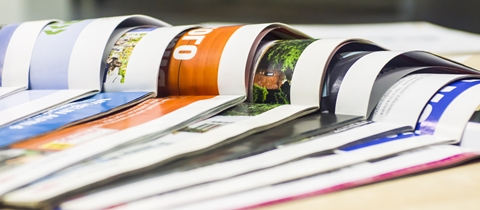 Company magazines continue to consume a significant proportion of many B2B marketing budgets. Understandably so, as magazines can be a great way to profile the company's achievements, internally and externally. But many companies have a long way to go before their content can easily be found and consumed online – that is, read, watched, listened to, or clicked on. No wonder it's easy to question the business case for a magazine. Is it worth applying so much time and budget to a magazine if its long-term reach and impact is limited?
Take a look at magazines you have created in the past. How much of the content is actually still relevant? Is it still getting the attention it deserves, or was it largely a one-hit wonder?
Increase the ROI of content assets 
It's likely that many of these stories are still relevant today – and can still engage important stakeholders – either exactly as they are or relaunched with a newer angle. And even if the stories are outdated, they probably still give your reader an insight into the company's heritage and how it got where it is today.
After all the investments in editorial planning, writing, design and publishing, not to mention the valuable time of subject matter experts who have contributed to the magazine, most corporate magazine content only gets a fraction of the attention it deserves.
Many B2B websites struggle to deliver content that is really interesting and engaging. Yet so much strategic focus is placed on the website in the hope that it is going to help generate leads or contribute to other strategic goals.
It's the opposite with magazines, which are not usually seen in a strategic light. Big efforts are put into creating a great experience for the reader through compelling stories and beautiful design. But after the initial big-bang launch, the impact of the stories is quickly lost either because they are published within a format that is not optimised for online or because they are not published online at all.
Publishing is just the beginning
The root of the problem is that most see the publishing of a magazine as the end goal itself. But really, publishing is just the beginning. When the content is live and online, it's time to start promoting it and maintaining its relevance over the long term. Content needs to be thought of as an asset.
The only way you can really bring a long-term perspective to this asset is with the help of a content strategy. Supporting your strategic marketing goals, the content strategy defines the content you should create, its purpose and how it will be distributed. It also forces you to consider the business needs of your audience before you even start to create content.
Without a content strategy in place, there is little chance of your content assets delivering long-term value.
A platform to support your content strategy
Your content strategy will determine how to connect content topics across platforms. For example, it will provide you with a structured plan for linking topics on your website with relevant stories in your magazine.
But even with a content strategy in place, you also need an online platform that allows you to execute it. The platform must provide the necessary flexibility to promote and highlight content, either individually as content ads or in an automated way using tags or feeds. And you can only really maximise the value of your magazine content if you can link directly to each individual story – preferably as normal web pages and not hidden within unwieldy, print-turned-online documents.
Fortunately, this flexibility is very much within reach of even the most limited B2B marketing budgets. Such platforms are no longer the barrier.
The biggest barrier to overcome is the all-too-common hesitance to invest in the advanced planning that takes the complexity out of content marketing and that is essential to delivering the marketing ROI that the boardroom demands.
Like this post? Subscribe now and get notified about new content!