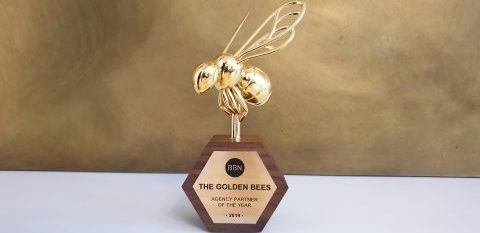 The Agency Partner of the Year award recognizes outstanding commitment and contribution to the international B2B marcomms agency BBN.
Along with representatives from many of the 30 BBN agencies from around the globe, we attended the annual BBN Golden Bee Awards earlier this month, held at Schloss Löwenstein, Kleinheubach, near Frankfurt, Germany.
The hotly contested awards are presented during a glamorous evening event – the social highlight of BBN's year – recognizing outstanding achievements in various categories. With agencies in 43 locations and 29 countries across the globe, the Golden Bee Awards celebrate the best in B2B marketing excellence.
With that in mind, we are thrilled to announce that cylindr was awarded Agency Partner of the Year 2019, acknowledging cylindr's commitment and efforts towards BBN, ranked by B2B Marketing as the No. 1 international marcomms agency.
Handing over the BBN Agency Partner of the Year award to Mercedes Beaudoin, Senior Copywriter at cylindr, Clif Collier, Executive Chairman of BBN, said:
"You deserve this award on every count; cylindr is an example to all partners. It is a pleasure and a privilege to work with you."
David Hoskin, cylindr's Managing Partner, says:
"This is an award recognizing the efforts of everyone at the Copenhagen office, and I'm very proud to be acknowledged in this way by our colleagues at BBN. Given the breadth of talent and experience within BBN across every facet of B2B marketing and strategy, we are inspired by this achievement.
"Being part of the BBN global agency gives us an almost unlimited pool of resources to call upon when we need it. But we also need to be familiar with the latest tools and processes, as well as know how and when to apply them.
"Commitment to learning and development is key to success as an agency. This is an award criteria, and I'm pleased to be acknowledged for our efforts in adopting BBN tools and models, which are designed to help clients achieve meaningful results from their marketing spend."
Read more about BBN – The World's B2B Agency.
Like this post? Subscribe now and get notified about new content!