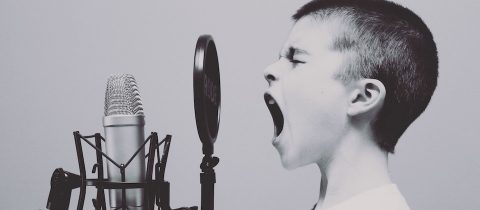 Public service announcement: this serves as a gentle reminder for why you set about adopting thought leadership in the first place.
If you work in a B2B company and haven't yet implemented a content marketing strategy with a thought leadership undertone, then you are way behind. While not a novel concept (it came to a head around eight years ago), not all B2B companies have adopted the approach. On the other hand, some have been doing it for years.
For old time's sake, let's revisit the definition of thought leadership:
Thought leadership is a marketing technique that can be employed to position you as an industry expert. The point is not to create old-fashioned, "salesy" content, but to gain trust and credibility by being seen as the authority or expert on an industry-relevant topic.
Want more revision and explanation? The Three Voices Strategy™ sums it up pretty well.
Lead, don't brag
It might seem silly to spend your resources on not promoting yourself at all – it's still marketing after all! But the point is to lead the conversation. Be a trailblazer and not the salesperson. Talking about your products and services still has a place, yet the priority is to be perceived as an authority on the matter or topic being discussed.
Advertising overload
It can't be stressed enough, the amount of advertising we're subjected to daily – hundreds, if not thousands. Therefore, it is important to make your piece of content count. Make an impression – be different, stop selling. If you keep selling, it'll just get diluted in an ocean of old-school marketing jargon: "latest technology", "state-of-the-art", "innovative", "know-how", "expertise", etcetera. (These words should be banned from use by copywriters. Admittedly though, sometimes there is no better word to use!)
Brand promotion rears its head
I wrote an article recently that forms part of a thought leadership approach – a new (and possibly scary) direction for the B2B company. The article was based on an interview with a service partner, written from the service partner's perspective. Collaboration projects were mentioned, although only briefly. The purpose was to shed light on one of the biggest issues facing the industry today and sharing how it can be overcome in the short and long term.
After several internal reviews, we were happy that it was a good example of thought leadership. However, the client (who would publish the article on its website) didn't understand why the article didn't promote the company or its services and wondered why it just promoted the service partner.
Stop talking about yourself
This is where the point was completely missed. Being a thought leader means being somewhat humble, serving a purpose (a willingness to help) and not being overly promotional. Would you want to hang out with someone who constantly talked about themselves? Personally, I'd run in the other direction. So, always come back to the definition of thought leadership, what purpose it serves you and your target audience.
Remember, when it comes to B2B marketing, thought leadership is a great way to:
Raise the profile of your brand
Educate your industry's community about interesting topics and issues
Build trust and credibility
Create content opportunities
If you are already implementing thought leadership as part of your marketing strategy, here are some ways to propel your thought leadership efforts forward:
Use social media platforms to distribute your thought-leading content – Did you know that LinkedIn is the most up-to-date database in the world?
Don't just publish on your own blog, be a guest blogger on other blogs and use other platforms like industry websites and magazines.
Consider other types of content than just blog posts. Videos are easily consumed and annual reports are a possibility as well.
Like this post? Subscribe now and get notified about new content!