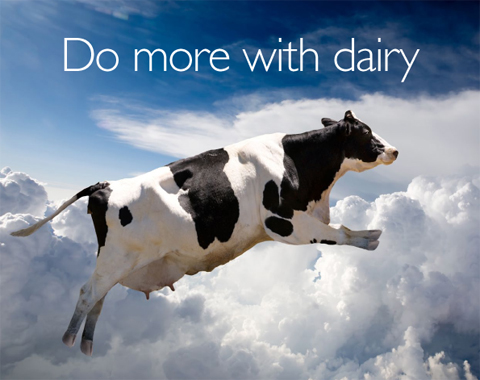 Rule #5: Never use humor in international B2B contexts
In global marketing circles, there's been some sort of unwritten (but often stated) law that it's foolish and even dangerous to use humor when you're dealing with oh-so-serious B2B marketing messages and more than one culturally cohesive region of the world. So, when a large B2B corporation dares to go out on a limb and use humor toward its largest key accounts, we figured it's something everyone in a B2B global marketing or communication department should hear about.
Stand out from the crowd
The company is DuPont, famed for its broad, science-based activities. The business area in this story is the dairy industry segment within DuPont Nutrition and Health, and the daring is due to not one, but a number of managers with both a sense of humor and the courage to stand out from the crowd.
DuPont's industry manager for the company's dairy ingredients came to our agency with a request that didn't differ much from what we hear from many of our customers: "I don't have much budget for this, but I need you to come up with something creative that can support our next five campaigns toward our absolute top key accounts." And he wasn't kidding about that budget. Our team compared the objective with the finances and realized we would have to do something radical if we were to make any kind of impact on so many customers across a number of countries whose cultures were undeniably different.
The creative process
That's where we decided to cross the line and use humor to do the job. But the idea we finally came up with was one that we gave little chance of getting through DuPont's corporate filters and into the hands of its most valued customers. In fact, we were about to be proved quite, quite wrong.
After a day or so of tossing ideas around at the agency, and coming up with nothing that really rang our bells, our creative team decided to take the task to a nearby café  for fresh inspiration.
When we arrived at the café, all we had was an idea to create some sort of interesting, attractive box that DuPont's customers would put on their office bookshelf and into which they could put each new campaign information pack that DuPont planned to release throughout the coming year. Yes folks, the budget was that limited. But what kind of box would be treasured enough to remain on the shelf for a full 12 months? And what might have some word-of-mouth marketing mileage in it, too?
A natural solution: cow-style
A few coffees later, we were speeding toward the solution: a milk-white box with not just (fake) black and white cow hide covering its spine, but with a short tail hanging down, too. We wanted DuPont's customers to think it was amusing to have one of these boxes on their bookshelves, literally standing out from more run-of-the-mill materials from competitors.
But there was just one question: how should the inner box, which contained the marketing materials, be pulled out? If people pulled on the cow-box's tail too often or too hard, it was likely to tear off, no matter how well we designed it. But the answer was (almost) staring us right in the face: why not place a hole where you could insert a finger to pull the inner box out. And where should that hole be? Well, where would you have put it? Right under the tail, of course. The question then became whether the client would think that presenting its most important accounts with a gimmick that actually had a built-in rectum (and requiring them to place their finger in that rectum) was a go or a no-go.
A prototype was built and tested internally at DuPont – and the reaction was generally positive, creating its share of amusement along the way. In due time, we received the official thumbs up (pardon the pun) for the idea and soon boxes were being produced by the dozen. They were packed with the first campaign materials and sent off to DuPont's customers who, despite cultural and situational differences, gave the boxes a warm reception. And the project was declared an international marketing success by the client. We even bought quite a few of the boxes ourselves, just to have them sitting around the office for our own amusement.
Try a little humor
So the next time you want to make an impact but don't really have the global marketing budget to do something highly polished, why not put a little humor into your international marketing plan instead? Of course, stay away from issues of race, gender or ill health, but you might be surprised just how well it works if you deliver humor within the industry's own creative universe – and with some inside knowledge about the international market place. Do test it with people who understand the local culture – otherwise you may risk what happened to one of our clients who dreamed up a haunted house ad concept that depicted sheet-covered ghosts flitting about. Testing quickly revealed that the Arab audience were at a loss to explain what "all those women" were doing in the ad…
Have you used humor or seen it used in an international or global marketing campaign? Let us know about it and tell us whether you think it really worked.
Like this post? Subscribe now and get notified about new content!