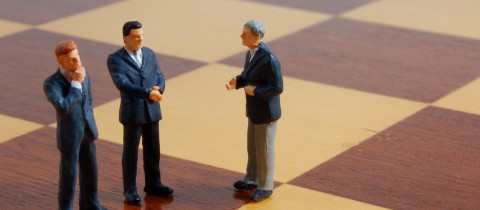 Conversation is more than a social media strategy. While all the attention these days seems to be on online marketing – and, sure, that's where the excitement is, there are still plenty of B2B executives getting results from good ol' fashioned face-to-face networking and word-of-mouth exchanges. By and large, we are social beings, and most of us still value the opinions of people in our personal networks and trusted business connections more than rather tenuous Twitter and LinkedIn connections. But what is word-of-mouth marketing worth in B2B? Find out below and find three tips for making your clients become your biggest advocates.
Newsflash: Real conversations still prevail
According to the Keller Fay Group, "Ninety percent of word-of-mouth conversations about brands take place offline, primarily face-to-face, in people's homes and offices, in restaurants and stores, really anywhere people congregate. These conversations bring with them greater credibility, a greater desire to share with others, and a great likelihood to purchase the products being discussed than conversations that take place online."
Even though there is plenty of evidence pointing to B2B buyers sourcing information and engaging in online conversations, the face-to-face conversations where buyers talk about their experiences and share their knowledge with each other are extremely also valuable to tap into.
Think about the following scenario. Your family has just moved to a new town, and you realize you need a plumber. You might go online, search the internet or even ask twitter followers and Facebook friends where to find the best local plumber. You might even check out reviews and other customer experiences online. This is all helping you create a picture of vendors, service and pricing levels, and credibility, much like it happens in the business world where B2B buyer behavior is moving online. But then you start chatting with your new neighbor Bill who says that his friend Susan once had the same plumbing problem. She used these Italian brothers and was really happy with them. In fact, Susan was so happy that Bill had noted their number just in case. Suddenly your online searching stops – here's a number from a trusted source. Happy to be relieved of further decision making, you quickly make the call.
Business executives rely on word-of-mouth and referrals when making buying decisions
Fair enough, most B2B buying decisions are far more complex and carry more responsibility, and in many cases there are jobs and careers at stake. Imagine Bill was actually an executive at a large B2B company and you told him about an issue you were facing at work. You'd been researching possible service providers on the internet to help solve the issue. It turns out that one of Bill's business contacts had recently worked with a service provider to solve a similar problem. The provider was highly recommended. Now, who do you trust most? Someone online who recommends a service provider, or Bill's trusted source?
It's an interesting predicament, because both types of sources can be extremely valuable.
Numbers from a 2007 study discussed in eMarketer suggest that word-of-mouth is the largest influencer. Actual rankings and preferences may now be different, but I think it is likely that word-of-mouth still ranks highly.
Developing B2B word-of-mouth marketing – 3 things to keep in mind
Take it from Kelis, dedicated advocates are great. Be better than the rest and people will tell their friends. But great milkshake alone is hardly enough – it's really about how you deliver it. Doing a great job every time is certainly important for building the trust and relationships with clients that make them want to recommend you to their colleagues and friends, but this is only half the story. The other part is building and nurturing a real relationship with your customers and helping them succeed beyond your product or delivery.
Here's how to get started:
1) Commit to customer success – share your customers' goals. Be their fan and advocate to help build a relationship that matters. If they agree to it, include their success stories in blogs, presentations and interviews.
2) Get to know each other – follow your customers and let them follow yours. Set alerts to follow their news and twitter feeds. Make an effort to understand and know what's happening in their industry as well as within their companies. Be sure to keep them informed about what happens in your company as well to build trust and deepen the relationship.
3) Champion your key contacts – help them out with tools and ideas to succeed within the company.  Find out what makes a difference to them and find opportunities for you to assist them where possible. The trick is to do this without it taking too much of your time!
Who do you trust to help you make business decisions? Let us know!
Like this post? Subscribe now and get notified about new content!