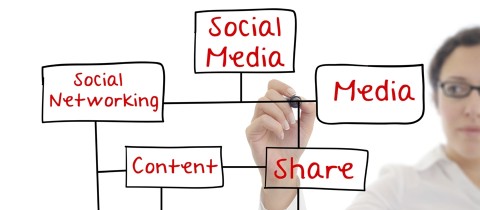 Content marketing is becoming an increasingly important part of any successful online marketing strategy. The majority of big businesses have already bought into the technique, and SMEs are starting to follow suit. The power of content marketing is that it allows you to reach out and connect with your online audience in an informative, entertaining and engaging way.
Many businesses agree with the philosophy of content marketing, but they don't know where to get started as the creative side of the strategy becomes a stumbling block. It can be hard to come up with engaging ideas that really stand out, and devising this into a scalable process can be even trickier.
The following four step strategy will act as a kick-start to your creative process, helping you come up with ideas that your audience will love, time and time again.
Step One – Find out where your customers are
The digital world is a big place, and it can take some careful research to discover where your time will be best invested. There are many social media platforms, and your customers will use some more than others.
Depending on your business type, you might want to consider niche platforms (such as Pinterest and Instagram) as well as more mainstream networks such as Facebook, Twitter, LinkedIn and YouTube.
Look at statistics and key demographics for each platform and see which one best relates to your customer base.
Research what your competitors are doing. Investigate where they're spending their time, and where they're getting the most engagement from fans.
Speak to your customers face to face and ask them which platforms they use!
Step Two – Research what your customers are interested in
In order to manage a successful content marketing strategy, you'll need to create content than meets the needs of your customers. One of the best ways to do this is to spend time researching what questions they have about your industry.
Engage your customers online and offline. Invite them to ask you questions, or think about what your existing FAQs are.
Use the search facility on Twitter to enter key words for your industry and see what is being said about them.
Use Google sponsored search to find out which key word niches are the most popular and therefore which your audience are likely to be interested in.
Browse Quora for questions related to your industry.
Step Three – Turn that research into content ideas
Once you've discovered what your customer base are interested in, you can begin to turn this information into content ideas.
Look at the list of questions and interests you've gathered in your research and decide which are relevant for your company to produce content about. The best options will be those that your company has expertise in.
Once you've pinpointed relevant topics, you'll need to turn them into content ideas. Think about different angles you could approach each topic from; such as reviews, how to articles, step by step guides and specific advice.
Step Four – Decide what kind of content to create
We all have different strengths. When it comes to creating content to use online, it's important to play to these strengths: whether those of the company as a whole, or of the individual people responsible for putting content together.
Content marketing is often thought to be synonymous with written content, but it doesn't have to be.
Think about the content ideas you've come up with, and decide what format they'd be best suited to.
Be honest about your own and your business' strengths, and what you have the ability to create.
Consider whether you have the budget to call in the professionals. Using freelance writers, photographers and/or videographers could be just the boost you need.
Be prepared to experiment. Practice producing blog posts, photos, videos and podcasts to see what mix of content will work best for you.
Like this post? Subscribe now and get notified about new content!