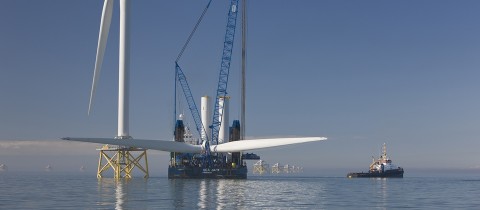 Offshore wind energy installation and service leader A2SEA takes a strategic approach to its integrated marketing communications, drawing upon tried-and-tested knowhow to arrive at its communication strategy. Part of that approach involves the use of "Must-win Initiatives".
Must-win initiatives
A "Must-win Initative" is a clear sub-objective for strategic communications whose achievement is crucial for the achieving the overall objective. Four such initiatives were created and agreed upon. One of these, for example, was titled "Best-told track record", and described a plan for more strongly communicating what is undeniably the best track record in A2Sea's industry.
A factor of vital importance to anyone assessing suppliers, the depth of A2Sea's track record extends far beyond simply having installed more than 60% of the world's turbines. It includes having more experience than anyone else with all the main turbine types, manufacturers, metocean conditions, seabed conditions, foundation types, regulations, sub-contractors and so on. A track record like this means A2Sea can tell prospective customers that it already knows a lot about the type of project they are planning – and has valuable knowhow to contribute.
Going to market
With an integrated marketing communications strategy for extracting greater Return on Knowhow in place, A2Sea moved on to create a communication strategy that clearly structured what the company wanted to communicate and the consistent elements of that communication.
Next, the marketing and communication team began to implement materials and activities, both on- and off-line, to support A2Sea's objectives. It created, for example, the first of a series of Best Practice Guides – a new element designed to help wind farm developers in their planning processes. Each guide focuses on a specific area of A2Sea's capabilities, providing useful insights, checklists and other tools.
To be perceived as an offshore wind energy market leader, A2Sea needed to look the part on its corporate website, too. To achieve that aim, the team built an entirely new website, using it to make what A2Sea does and how it does it clearer and more compelling. While there are many new capabilities on the site, perhaps one of the most interesting is the way in which the company's track record appears. Essentially, it's a multi-purpose tool that not only allows visitors to the site to see A2Sea's depth of experience, but which simultaneously forms a powerful, mobile device-enabled sales tool for the company's sales force.
The list of Voice of Company elements created to support A2Sea's integrated marketing communications strategy is long. It includes a new company profile video, delivered in a more credible and more arresting style than the usual standard for the industry. And a powerful online publication platform for the company's newsletter so that readership of the various articles can be tracked and future editions more closely attuned to reader preferences. Newsletter content, of course, has edged toward greater focus on knowledge-sharing. The new A2SeaNews, along with its text or video-based content, is now accessible to anyone with a PC, tablet or mobile phone – and it's CMS-driven to minimize the number of resources the company's marketing department needs to devote to new editions.
All of these developments represent strong progress toward extracting greater Return on Knowhow for A2Sea. But perhaps the most powerful item on the list is yet to come: a new, collaborative initiative aimed at helping the offshore wind energy industry to work better together. Scheduled for formal launch in the second half of 2013, this initiative will be based around a website that uses a Voice of Industry (arm's length) approach. By "Voice of Industry", we mean activities where a company seeks to influence its market and enhance its brand by discussing industry-level matters instead of directly pushing its own products and services.
While encouraging the industry to share know-how, these activities will form a strong platform for attracting and connecting a large audience of offshore wind energy decision-makers, influencers and potential recruits to A2Sea – and to those of its industry partners expected to join the company on the platform. It will be a complementary tool to balance more strongly A2Sea-branded offerings (Voice of Company) such as the corporate website.
I'll let you know more as soon as A2Sea's Voice of Industry activities are launched – it promises to be an interesting journey!
Like this post? Subscribe now and get notified about new content!