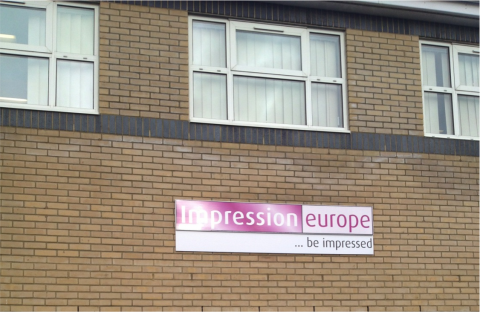 Recently, while visiting one of our customers in the UK, I saw a fascinating sign on a building next door to the customer's own offices. I was struck by the boldness of the claim – particularly given how unimpressive the sign's visual idea and execution was. The effect, in my mind, was to create something academics call cognitive dissonance. And that's a certain something many B2B companies do all too often.
Researcher Manoj Kumar Sharma describes cognitive dissonance as follows:
"People tend to seek consistency in their beliefs and perceptions. So what happens when one of our beliefs conflicts with another previously held belief? The term cognitive dissonance is used to describe the feeling of discomfort that results from holding two conflicting beliefs."
Basically, I was being told to be impressed, while my own beliefs about what actually constituted an impressive experience were telling me the complete opposite. The sign, and the building upon which it was hanging, were boringly functional rather than aesthetically mind-blowing. Granted, this dissonance captured my undivided attention – to the point of stopping to capture the sign on my smartphone. But it left me with significant discomfort at the idea of engaging with the company as a prospective customer, no matter what they might sell.
Curious to know whether the company was every bit as impressive as it claimed to be, I checked the company's website on my return to Copenhagen. Perhaps this would connect the missing dots (apologies for mixing my metaphors) and the mystery company's bold tagline would suddenly be justified. No such luck.
To be fair, Impression Europe turned out not to be unimpressive enterprise, describing itself as "one of the UK's leading suppliers to the promotional merchandise industry". Via their website, companies can buy anything from an ice scraper to a pen or a can with six Dutch waffles as a promotional item. The "Be Impressed" tagline was prominent on the home page, so clearly, the company's management believes in its power.
What lessons can be learned, I hear you ask? I think there are at least two:
There are no shortcuts in B2B marketing to impressing people – either you've done what it takes to truly be impressive or you simply won't be seen that way. And you can't tell people how they should feel without using more subtle means to change their attitudes or moods. Take the time it takes, and spend the money being impressive demands.
Avoid cognitive dissonance. B2B buyers are smart enough to sort out reality from marketing hype, yet many companies think they can get away with all kinds of propaganda (no one wants to say 'lies' because that seems somehow too harsh). We're all practiced consumers, and are seldom fooled by false or exaggerated claims – it just makes us uncomfortable about the company making those claims.
If you've seen other examples of cognitive dissonance – or if this article itself gives you some form of dissonance, let us know!
Like this post? Subscribe now and get notified about new content!