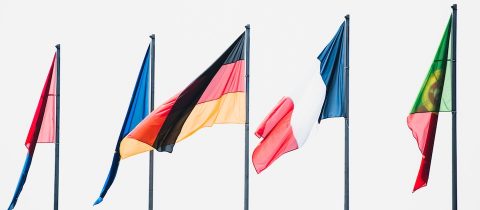 The days of Mad Men-type agencies are gone – and not just because we've moved on from casual misogyny and heavy-drinking lunches. The scope of marketing and advertising has expanded, technology has advanced at lightning speed and no one agency can expect to have all the competencies and specialized knowledge necessary to serve all of their clients' needs. Even large agencies don't have everything that's needed for international campaigns across many different platforms.
But this doesn't stop companies from having high expectations and wanting it all. Even smaller clients want efficient providers who are well-equipped to deliver a full suite of services. B2B marketing is global and companies are looking for agencies that provide agile local thinking, along with the potential for international scalability and access to in-depth industry insight and expertise.
While individual agencies often can't offer the breadth of services clients want, from digital strategy and creative design to PR and advertising, and the geographic range many expanding companies need, there is a way to meet these demands.
Next generation of B2B agency
The new model for agencies is collaborative and geographically diverse. Instead of single, local offices with limited resources beyond their walls, inter-connected agencies from around the world come together to offer wide cultural and industry knowledge, deep resource pools and actively engaged, forward-thinking people.
Such agency arrangements can collectively offer everything.
A growing sustainable energy business in Copenhagen can get the personal attention and industry awareness they crave from a Denmark-based agency, while at the same time accessing market knowledge and geographically specific guidance from a partner agency on the ground in the US. Suddenly, regulatory requirements become easier to wade through, cultural barriers fall and the client gets the across-the-board experience they need to make in-roads in a new market.
The guesswork is gone – and clients benefit from the collective insight, drive and shared vision across the partner agencies.
One size does not fit all
It's not news that standardized solutions no longer exist in B2B marketing. The huge amount of available information, the specificity of services and the narrowing of focus in the world of business all mean that a plug and play approach will not address individual client needs.
Internally, corporate culture and the CEO's approach to marketing also add another layer of complexity. What works for one company or industry may be wildly inappropriate for another. The marketing orientation of one CEO or CMO could be diametrically opposed to another – although hopefully the C-level executives within a company are all on the same page!
And, certainly, what plays well in one country or region may be absolutely verboten in another (just as using foreign or highly technical words might be off limits). With some local, insider knowledge, it's even possible to inject a little humor into a B2B marketing project.
Gimme more
The international model of a B2B agency lets fast-paced businesses get the personal attention of dealing with a locally based agency, while being backed by the might of a large, multi-national collaboration. A geographically diverse group of partner agencies gives clients more: more intelligence, more resources, more reach and more possibilities.
The world is your oyster.
Like this post? Subscribe now and get notified about new content!