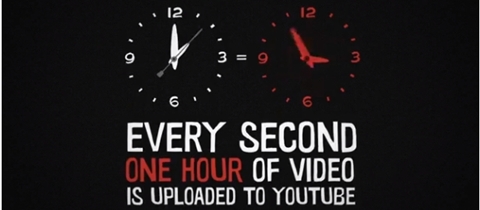 Youtube released this great video a while back announcing its users now upload 60 hours of footage per minute and watch more than 4bn videos each day. With this much content being uploaded constantly, one could be forgiven for assuming that none of it gets watched, but it has been revealed that individual videos on Youtube are viewed on average 300-400 times. In this post, we examine the importance of Youtube for video content marketing projects and some of the things to keep in mind when using it.
The increasing importance of Youtube
Youtube is the single largest site on the web for uploading, viewing and sharing video content, but it also happens to be the second largest search engine on the web (after google). This makes it important for a couple of critical reasons when considering the lifecycle of video content in any campaign or inbound marketing programme especially in terms of the 3 Cs of effective content marketing:
Video is not only more effective as a communication medium (when we consider aspects such as audience drivers in relation to the stories we are telling) and the formats that are adopted within video (short-form browsing content, or longer-form and in-depth narratives).
Primarily, Youtube sits firmly in the Channels/Community aspect, but all three are interrelated and it is fundamentally important that video content is approached from a holistic strategy angle. In this way, a video intended primarily for Youtube would be different from one that is intended for use only on an ecommerce site because the rules of engagement and audience context are different, as well as the video formats that will produce the greatest audience engagement.
Video content marketing in the broader communications mix:
The increasing importance of video in achieving reach and cut-though in organic search results cannot be overstated. In fact, Forrester Research has found that video is more than 50 time more likely to land on the first page of google SERPs than purely text content (which makes sense when you consider just how much more text content there is out there on the inter webs compared to video).
Youtube holds enormous power for content discovery and distribution, making it a must-use platform for any B2B company wanting to get their convent found and viewed and generally speaking, our view on Youtube as a platform is that it should be treated similarly to any social media site or distribution channel (albeit a very important one).
Where budgets allow, we always advise clients to use a premium video platform or service on their home sites (rather than embedding using a Youtube player). This allows for more control of the player branding and user experience as well as stronger attribution of SEO value to your home site. From there, content can be pushed to external channels such as Youtube, Facebook et al.
For us this advice needs to be tempered and informed by the precise goals of the video content – if it is pure exposure and reach that a client is after – Youtube is a very strong option. However, if the goal is more around conversion (getting traffic and visitors to a specific website), the stickiness and engagement of the YT platform can often become an obstacle to this as Youtube is very good at keeping it's audience within Youtube (with content recommendations, restrictions on where external links can be merchandised, and fundamentally damn good UX).
In these cases, a hybrid model of content distribution is often what is called for – creating a range of video content and incentivising movement and conversion across each phase of the buying cycle or user journey (using different video content across different channels to satisfy different customer needs or questions within the conversion process).
Note: Channel approach for different content would move towards Owned Media as the user progresses through the pipeline.
Youtube and video content marketing summary
At the end of the day, Youtube is an incredibly powerful tool for content discovery and audience reach building – but it does need to be carefully employed by marketers and companies to avoid derailing deeper conversion goals and activities around video.
I always recommend that a hybrid approach be adopted to ensure that we are serving both the exposure/reach aspect of video content marketing as well as the all important conversion aspect of such campaigns/projects.
This is by no means a one-size-fits-all approach, and finding the right approach for your video content marketing requires that a robust strategy framework is adopted to allow not only the effective control of longer-term strategic objectives but also to allow structured optimization over the shorter-term tactical and implementation activities.
This should ultimately result in a constant ongoing process of small changes and improvements across Context, Content and Channel tactics, in combination with larger periodic strategic reviews to ensure the best use of earned distribution platforms such as Youtube as well as delivery to your brand, reach and engagement objectives.
Like this post? Subscribe now and get notified about new content!