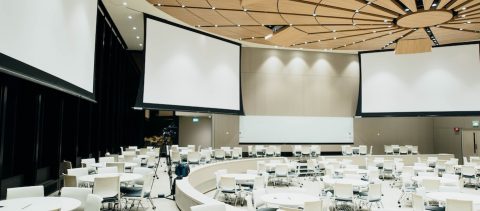 This is the final blog post in a three-part series covering B2B marketing and LinkedIn. In this post, I take a look at how LinkedIn can be used for lead generation at any stage in the buyer journey in the case of events being cancelled.
The current pandemic has really pushed us all to our limits, personally and professionally. For some of us, it's brought about uncertainty and a downturn in revenue, cutbacks and general malaise. For others, it's been a welcome shake up – a chance to reassess where they're at, where they're going and take a long, hard look at themselves through a new lens.
Events such as trade shows have long been a great lead generation opportunity. But with events being cancelled all over the globe, we've been forced to rethink how we generate leads during a time when it's needed more than ever.
Think differently
The future is unpredictable (and always has been) – we don't know how the coronavirus will play out. While it is good to remain optimistic and start planning for events that may go ahead, what is a new way that you can connect with prospects in the midst of the pandemic?
The obvious answer is to use what is right under your nose. LinkedIn is one way to get as close to the real thing as you can get with all of the lockdowns and social distancing that's fast become a part of the norm. Coupled with account-based marketing or ABM, it's a sure-fire way to get back in the game and start generating leads.
Bring your ABM-game
So how can you use ABM in the context of LinkedIn for lead generation when events are cancelled?
Let's say you've got a database or customer relationship management (CRM) system that has a list of companies you'd like to target as prospects. This list of companies can actually be imported to LinkedIn, giving you a kick-arse ABM target list.
From here, identify the specific job titles that you would like to target at each of these companies. You can do this by using specific ads that address their pain points. Retargeting on this list is also possible via LinkedIn.
Once you've done this and still, there is silence on the other end, don't give up! You can use LinkedIn automation to initiate a connection request with each of the people you are targeting on the list.
Once people start accepting your connection request, LinkedIn has a capability to send out a series of strong and strategic messaging in bulk, saving you time and reducing labor-intensive, manual processes.
There is also intelligent marketing technology that can easily create a list of contacts if you have no existing database or CRM system. You can employ ICP and IP tracking software on your website.
The wonderful thing about using these LinkedIn techniques in place of actual physical events like conferences and trade shows is that they can be used in all stages of the buyer journey. This counts for the buyer retention stage as well.
Want to know more about ABM? We cover it in this free introduction to ABM eBook.
Related blog posts
You can also read the other posts in this blog post series.
Best practices for sharing content on LinkedIn
How to interpret your LinkedIn company page analytics
Like this post? Subscribe now and get notified about new content!