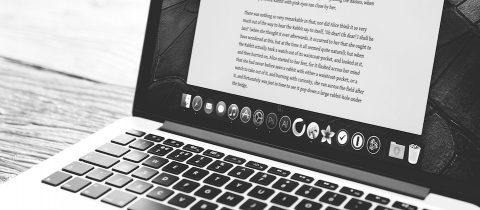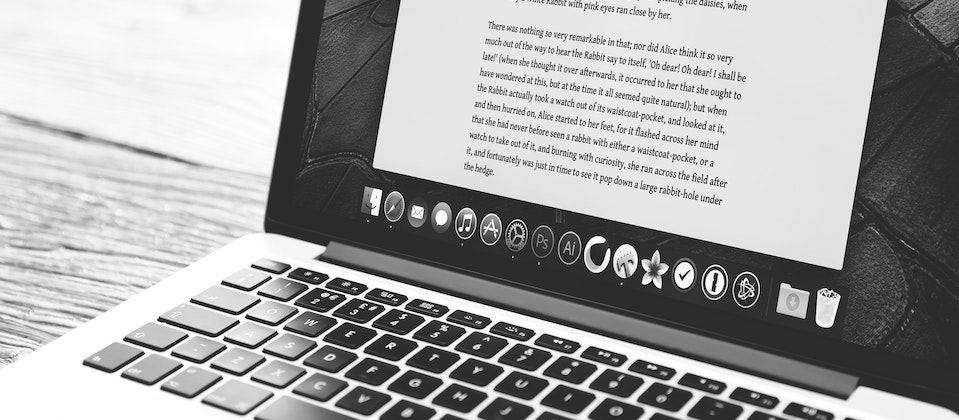 When I tell people I work as a copywriter, I'm usually faced with a blank look or a slight nod of the head, followed by the question, "So what do you do?" Truth be told, I didn't even know what a copywriter was when I applied for the job! What I've learnt is that we are a special breed, not everyone is good at it and that I've developed a skill for life.
I delve into the nooks and crannies of what a copywriter is – you can decide whether this is a skillset you would like to get a hold of.
A copywriter is marketing speak for someone who writes content such as articles, reports, blog posts, newsletters, emails and website text. It also helps to know that in the marketing world, copy is another word for content. Essentially, a copywriter is a content writer. And despite what it sounds like, it has nothing to do with copying anything or copyright law.
A unique skillset
Being a copywriter is not as easy as it sounds. It requires excellent communication skills, especially in written form, a creative mind and a thick skin. I mention thick skin because our work goes through many reviews and drafts before the final is given the stamp of approval. We need to be ready to be critiqued and questioned about our writing decisions.
I've often pushed back against using cliched statements such as "It's in our DNA" and "We are an innovative company". Yet they tend to slip in from time to time. What I've learnt is that sometimes there is actually no better way to say it. So, in it goes!
Marketing experts
Having a deep understanding of the subject matter is important, but it's also required that copywriters understand the marketing principles that set the foundation for a robust content marketing strategy. Tone of voice, search engine optimization (SEO), buyer personas and the buyer journey are just some of the considerations when copywriters write.
Need a fresh-eye?
Copywriters possess skills in editing and proofreading. Say for example, you have written a magazine article for a global industry magazine and need someone to give it a once-over before submitting it to the editor. A copywriter can do just that and make suggestions for improvement as well.
From scratch versus transcreation
We can write something from scratch, doing our own research to find relevant, supportive articles or documentation to back up what we are saying. We can also take already developed content and lift it – this is known as transcreation.
I have frequently 'lifted' otherwise dry and highly technical content so that it is easier to understand by the lay person. For someone who avoids lifting weights at the gym like the plague, I sure have done a lot of lifting as a copywriter.
Tapping into experts
I have interviewed industry experts and then written articles or blog posts about the topic at hand. From here, I draw out the key messages and back them up with some impactful quotes to truly capture the essence of the interviewee.
My list of interviewees includes the lead of a UN sustainability program, engineers, a Deloitte consultant, a handful of researchers, and a sales and marketing expert. Not only does this require excellent rapport-building and interviewing skills, but also the ability to develop an angle to present and spread the knowledge of such experts or thought leaders.
Many copywriters are "ghostwriters" for subject matter experts (SMEs) across a vast range of industries. This means that, while publicly an article or blog post is attributed to an SME, that a copywriter has written it – oftentimes with the input of the SME, but sometimes without much input at all.
Getting to the point – fast
Writing concise content is tough but is a skill that copywriters possess. When you have a limited number of characters to write a compelling tweet, you learn to get straight to the point. Getting the point across with as few words as possible is an art form.
It is easy to do a brain dump on a complex topic, expecting the reader to understand and read everything. This is especially the case with engineer-speak or scientist-speak. It's a good idea to always pose the question, "How does this add value to the core message?" as well as, "Will the text work without it?" I dare you to leave it out if your answer to the latter question is yes. Because I would.
Comedic creativity
Creativity is a huge part of being a copywriter. Coming up with catchy headlines and sub-headings, teaser text and social media posts that 'hook' a target reader is a tough gig. Most smart and catchy headlines have already been used ten times over. References to pop culture and pun-ny captions may be funny to native-English speakers, but may not fly with a Dane (or the wider global audience).
However, I've found using lyrics from songs quite effective. "Here comes the sun" and "Another one bites the dust" are just two examples used in a corporate social responsibility (CSR) report and cement manufacturing equipment brochure text, respectively.
Music is universal and the reference usually works a treat. Besides, a little hit of humor never hurt anyone. Take Snickers® as an example. The brand has run a successful campaign based on getting hangry (angry when hungry).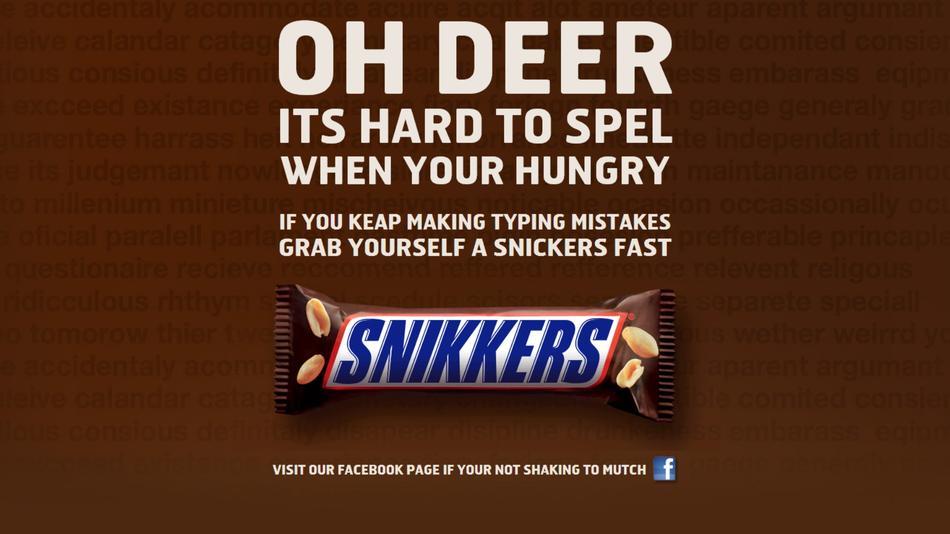 Storytelling magic
Most copywriters are also storytellers. Storytelling is not just for children. As adults, we remain connected with the magic of storytelling. It is known that storytelling is essential for building brand identity, creating emotional and human connection. It's essentially the hook – by pulling at heart strings of customers (in a B2B or B2C context), brand loyalty is built. We are more likely to connect with a message if it makes us feel something.
Personality shines
This job ad caught my eye recently. "We're looking for people who hate advertising yet work in advertising". It's daring and cheeky, but it perfectly demonstrates the personality of the Copenhagen-based agency. Cutting to the chase, no bulls–. With a bit of fun sprinkled into it.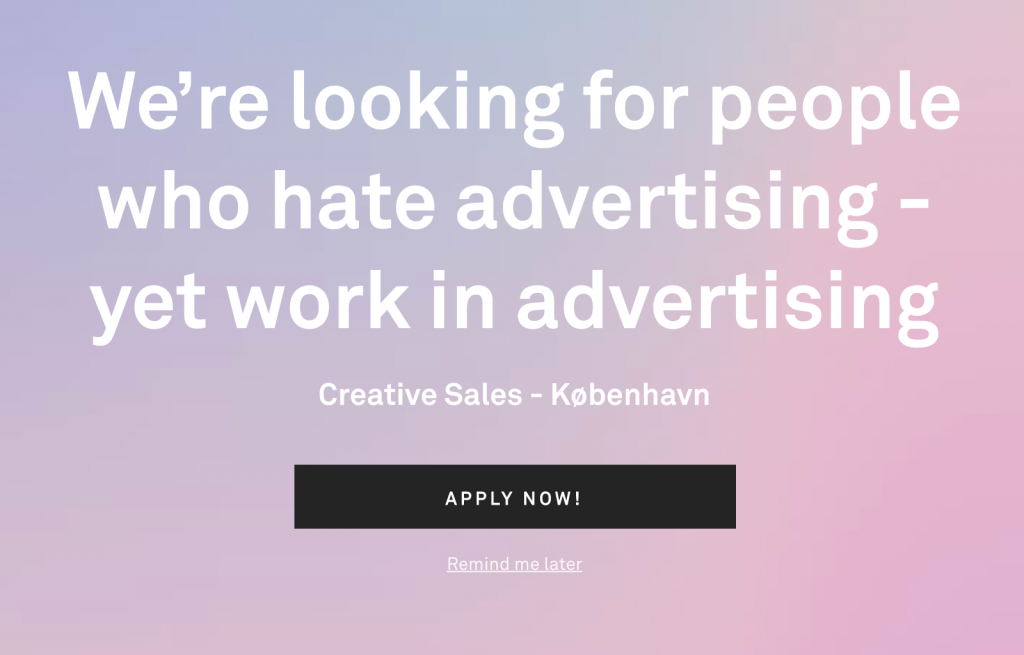 How's your content hygiene?
We can see and feel that there is a lot of content out there. Some of it is really good while others are just downright terrible – riddled with sales messaging, spelling errors and generally poor reading hygiene (think long sentences, a lack of subheadings and complicated words for the sake of complicated words). A skilled copywriter is highly versed in spelling and grammar in both English-American and English-UK.
Defining the humble copywriter
So there you have it. A copywriter is more than a writer. We possess the ability to translate complex information into digestible pieces. We're negotiators, marketing experts and creatives who play an invaluable role in your marketing and sales machinery. And with targeted content at the core of account-based marketing, you sure will need at least one talented copywriter to support you.
If you are serious about content marketing and really getting your message across, a copywriter is your best bet. Want me to write for you? Meet me – I've worked as a copywriter and have progressed to senior copywriter status working at cylindr, a B2B marketing agency in Copenhagen.
Like this post? Subscribe now and get notified about new content!