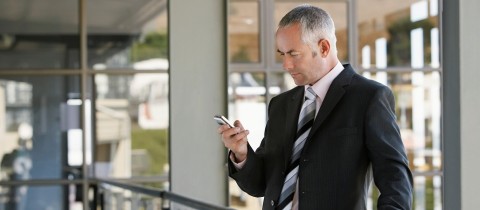 Marketing automation is a time-saving action, and nurturing leads is a smart business practice. It stands to reason that both efforts can work together to create a dynamic, effective result. Now, that may sound simple, but it's actually a strategic initiative that leads to qualified sales leads, which turns into greater sales revenue.
The challenge is how to properly lay out and execute a plan of action that is productive, manageable and measurable. It's smart for B2B decision makers to employ email marketing into these campaigns, but that isn't enough to really get the most out of your efforts. A key to successfully nurturing and qualifying leads is text messaging.
Used together, SMS and marketing automation empower your B2B company to reach your targets with a specific, enticing message. Here are four ways SMS and marketing automation nurtures and qualifies B2B leads.
#1: Keeps your business in front of the buyer.
According to Active Marketing, "only 27% of leads are sales ready when they are first generated." Using automated text messages reminds your target audience that you are still there, waiting to add value and address their pain points. Even with leads who aren't ready right now, nurturing them in this manner increases the chances that your company will be on the winning end of the buying decision when it's time.
#2: Allows the prospect to get to know your company.
Consumers, whether B2B or B2C, like doing business with people they know and trust. By setting up a consistent, automated stream of text messages, you feed the prospective buyer bite-sized chunks of information about your company. Chances are good they will remember this value-add pieces of information, which will set you apart for the competition.
#3: Creates interest for events and promotion.
Using SMS and automation together supercharges all of your promotions and events. A new product rollout or exciting special event such as a webinar or tradeshow may be just the catalyst that spurs a prospect to make the buying decision. An automated texting campaign allows you the flexibility to instantly reach your targets and make them aware of the event or promotion. It's all about creating a connection at the time the lead is ready to move forward in the sales funnel.
#4: Produces a larger return on investment (ROI).
Even large marketing teams have limited resources, so it's smart to get the most bang for each marketing buck.  Nurtured leads tend to make larger purchases than non-nurtured leads. By capitalizing on automated text messages in conjunction with other lead nurturing efforts, the prospects that do end up becoming customers will undoubtedly buy more than those who were never nurtured. This increases ROI and maximizes revenue.
B2B sales is frequently a long cycle, and a variety of obstacles can derail its success. By employing SMS and marketing automation, marketers are able to deliver value-add information to the prospect, create a relationship of trust, and be present when the lead is ready to buy. This initiative creates larger purchases and greater revenue, and prevents leads from falling through the cracks.
Like this post? Subscribe now and get notified about new content!