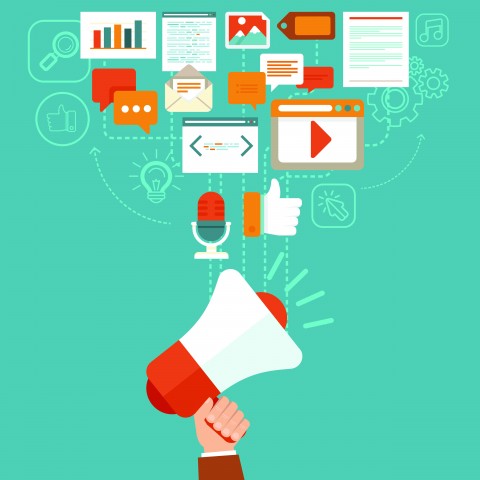 It's not that hard to write a blog post, a Tweet or an article, right?
All you have to do is think about what you want to say, structure it, then start tapping away at the keyboard. At least, that's pretty much true if you're a good writer and English is your native language!
Our Danish-based B2B clients, on the other hand, have an added challenge in comparison with competitors from English-speaking regions: producing high-quality English texts when English is their second (or even third) language.
B2B marketing success?
We know that many of our Danish clients have great stories, ideas or opinions that their B2B customers would love to hear, but they're reluctant to put pen to paper. Usually, what's holding them back is:
a fear of making language mistakes – writing "Danglish" (errors in English due to influences from the Danish language), or
because writing simply takes too long.
Of course, we understand that producing useful and well-polished B2B texts in a second language isn't easy. Nor should it be taken lightly! Businesses definitely shouldn't settle for publications containing grammar errors, spelling mistakes or cultural faux pas. At the end of the day, sub-standard writing reflects badly on B2B brands.
Overcoming the language challenge
Good quality, substantive B2B content, especially that conveyed or linked to via social media, is only gaining in importance in the marketing mix. According to a Roper Public Affairs survey in 2013, 80% percent of business decision-makers prefer to get company information in a series of articles versus an advertisement. And more recently, a DemandGen Content Preferences Survey from 2015 shows that B2B buyers consider case studies the most valuable content for researching B2B purchases.
So companies can choose to produce a regular flow of credible Voice of Company stories about how customers successfully use their products, or informative Voice of Industry articles on a company-owned platform that stimulates open dialog and knowledge-sharing about industry challenges. If they're put together well, these texts can elevate brand awareness and build the trust and credibility needed to help buyers move through the decision-making process.
However, what Danish B2B companies might not realize is that even if they can't afford to spend huge amounts of time and money perfecting knowledge-rich posts and articles for their international audiences, help is available! And such solutions are often cheaper and more hassle-free than you might think. Check out these options:
Uncover your in-house native-English writers!  

Level of difficulty: Ranges from 2-4 out of 5 (depending on industry)
An internal search within a Danish business can occasionally uncover hidden treasures. You may find practical experts that are also natural bloggers, just waiting to be given the opportunity to produce interesting content. Encouraging in-house staff to author articles gives them true authenticity – these are the people in the know, after all.
However, critical issues will be time and quality control. You'll need to monitor and maintain the standard of the texts. I've already blogged about how writing that's not properly proofed to bring it up to scratch can damage your brand's credibility. (You don't need to take my word for it though. If you dare, you can also read this bold rant.)
Of course it helps considerably if your experts are writing in their native language. English text written by a native speaker flows better and sounds more natural than non-native writing – making it much easier for people to read. And this is especially important for online texts, because busy audiences like to scan information quickly. Unexpected language glitches interrupt the process, causing readers to stop, go back and re-read, perhaps scratch their heads, and worst case, give up on the text and move onto something else.
You'll also have to make sure your employee authors are given enough support, encouragement and time to write. As social media blogger Dan Purvis explains [broken link removed], staff that view content creation or social media activities as yet another task to cram into their hectic schedule will resent, rather than appreciate the work.
Hire specialist writers into your company

Level of difficulty: 4 out of 5
There's a growing sentiment that brands are moving increasingly into 'publisher' territory with content marketing activities explicitly designed to foster communities of followers. That creates a need for relevant, quality content about topics that matter to customers. And if your market is international, that calls for producing a sustained flow of information in English.
Danish businesses that don't already possess employees with the right skillsets can consider hiring in new staff to write regularly for them. Aside from the usual challenges of identifying suitable talent and training them in the business's communication style, one of the main obstacles here is cost.
One softly-softly approach we've witnessed is to hire in local, part-time writers who work 20 to 30 hours a week. This can be a win-win for Danish companies and specialist writers: the latter gain enough insight into the company to produce outstanding texts, with the advantage of regular, predictable work for which they can block-schedule time, and the former gain access to specialist skills that can spill over to the rest of the team and lift the corporate writing standard generally.
But the biggest hurdle we've seen here – and one that Danish companies are gradually becoming more aware of – is the need to hire in native-English writers to create English texts. Companies may already have Danish writers in the communications or marketing department and be keen to have them write in English. As we've mentioned above though, this simply won't match the quality achievable by a good native speaker.
Not all native-English readers can instantly sniff out mistakes, but for those who notice them, it's very easy to tell that a text has been written by an ESL writer (someone with English as a second language). And coming across clunky text while you're trying to skim read online is as disruptive as getting the hiccups in an important meeting.
As an example, we recently received B2B company information about translation services that promised to use native-language writers. However, the information on the website was peppered with so many grammatical errors and yes, you guessed it, "Danglish", that we discounted the company immediately. To be fair, great writing is our business, so we're quick to spot errors, but certainly there are a lot of international businesses that will base their assessment of a company's credibility on the level of professionalism conveyed by basic informational materials.
Aside from the speed and accuracy gained by having someone write in their mother tongue, the knock-on effects for your team are hard to put a price on. In our experience, businesses notice an immediate difference. Having a 'go-to' native-English speaker in the team boosts everyone's confidence and writing level. And if that native-English speaker also speaks and understands Danish, and can therefore get a head start by looking at your company's existing Danish materials, it's a match made in heaven.
Combine your company's experts with external writers 

Level of difficulty: 1 out of 5
Tapping into the existing knowledge from your company's experts and teaming that up with great consultant writers makes for a winning formula. Your in-house employees are the specialists on the front line, getting in amongst the action every day. Calling on talented writers as and when you need them sidesteps issues with time and the fact that not all of your specialists may be naturally talented bloggers or writers.
In our experience, it's not difficult to produce quality content relatively quickly using an external writer. For example, constructing a great story can follow a straightforward process like this:
A brief discussion between the company (often a communications manager) and writer clarifies the purpose of the piece, key messages and format
The writer arranges and conducts a 20 to 30-minute phone interview with an in-house expert. This can provide enough input to write a technically correct yet compelling story. If your writer understands Danish, the interview can be held in either Danish or English
The writer produces a first draft which is sent to the communications manager for comment
Any necessary changes are made
The content is done! And the company receives quality English-language content to post internally, externally, or on a variety of media – according to its chosen strategy
Once the framework is set up for this kind of process, the time it takes to proceed from idea to finished article only gets shorter. As your writer gets to know your business and the tone of voice that best suits your company and industry, they'll get better and better at producing spot-on texts first time. On top of that, finding a writer that already knows something about your industry will reduce the learning curve significantly.
Draft your own texts, then use external editors

Level of difficulty: 3 out of 5
We're often asked to "proofread" English texts produced by Danish companies. Again, anytime someone asks for proofreading, it's usually "editing" that's needed since very few texts are polished to the point of an occasional typo!
But this is a relatively pain-free way to boost your corporate writing standard – and quickly. Having a pair of fresh eyes go over a text can also reduce the risk of making embarrassing mistakes or cultural faux pas.
The only sticking point in using external, native-English editors can be getting your internal language watchdogs, (often university-trained "Korrespondenter") to accept external input and sometimes, a little constructive criticism. Most times, however, that's not a problem.
What fits your strategy?
Obviously, producing great content works best when companies take a strategic, long-term view and generate high-level material consistently over a sustained period. This means going beyond one-off pieces of information to establish a conversation with your audience, thereby working towards building a relationship.
Some examples of companies creating a great setup for content include FOSS's Voice of Industry website, NIRPerformance, and Arla Foods Ingredients' Whey and Protein Blog, which facilitate dialogue around critical industry issues. In hard copy format, global mineral and cement industry supplier FLSmidth produces "Highlights" which is an industry-leading Voice of Company magazine containing useful in-depth information.
It also makes sense to maximize corporate content "assets", by reusing, updating and repurposing pieces or segments for as long as they are relevant.
Choose your mix
Many Danish companies are best served by a pick'n'mix combination of the four options outlined above – perhaps bringing in external writers for fresh inspiration on specific projects, and also creating in-house texts that are edited and polished externally.
So if you're a Danish or international company needing English-language content, all that's left is for you to figure out which of these options works for you – and start to boost your marketing efforts immediately!
Like this post? Subscribe now and get notified about new content!