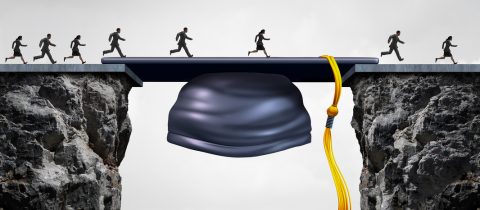 1500 hours of after-hours work. That's what it took to complete my MBA. The only thing remaining now is graduation and the party! As valuable as the actual studies have been, in many ways, it's all about the party. But more about that later.
Now all that hard work is over, I want to reflect on the journey. Why did I do it? Do those reasons hold up three years later? It's probably too early to tell, but let me look into the crystal ball and see what the future may hold.
For others considering an MBA, this may help put some decision-making criteria into perspective. This is by no means a definitive list of what to think of if you're considering an MBA when you're well into your career. But I hope it does give some ideas to help make up your mind.
Flexible MBAs are not entirely flexible
And it can be a tough decision. If you want to take a 'flexible' MBA alongside your day job, you need to be prepared to put in the hours after work. I can't say I looked forward to that, but if you structure your time, you can successfully make it part of your daily routine, while still having some time – albeit much less – for other interests and people in your life.
Everyone will have their own reasons for doing an MBA. But it's probably safe to say that no-one does it for fun! Most people do it to enhance their careers – an argument that the business schools like to promote. Indeed, any evidence that points to an MBA graduate being promoted is immediately jumped on as an alma mater success story.
Not everyone believes in an MBA
One way to evaluate it, I suppose, is to answer the question of whether it will benefit my career. Will it give me more opportunities – help to earn more money? My first gaze into the crystal ball? Highly unlikely for both.
I discussed this often during my studies – the first question was almost always how I could find time for it. But I never really got the impression that it would be seen as a big boost to my work. People are generally too respectful to say outright that it is a waste of time, even if that's what they meant between the lines.
I had several discussions with CEOs and other senior executives (as part of my research project), who found it 'interesting' that I was doing it. One CEO (who incidentally did not have an MBA himself) said that an MBA meant nothing when he was looking to hire a senior executive to his team.
Before I applied for the program, I remember being questioned about my need to do it, too. I must add, however, that those who question the value of an MBA generally don't have an MBA themselves. The MBA graduates I spoke to were understandably convinced that it was a great thing to do.
So why do it? The main reason initially had to be the challenge and to answer the call of curiosity about what it was really like.
A personal challenge
The best pro sports teams talk about setting their own standards and not judging their standards by others'. Taking an MBA was my way of raising my own bar. I wanted to extend myself by exposing myself to areas of business operations and theory that I haven't normally dealt with.
This brought immediate personal rewards. I soon realized I had deeper insights into particular concepts, terms and principles that a subject matter expert would often mention in passing.
Achieving a goal like this – and raising my own bar – is highly satisfying from a personal perspective. And that has a certain value to it that's difficult to quantify in dollars and cents.
It's not only about time
As a consultant, I'm used to watching my time, so I tracked all the hours I spent on it. Just under 1500 was the magic number. Without a doubt, I could have spent those hours on other valuable things: more billable hours, other business ideas, family, friends, physical fitness, my garden – a whole lot of things.
But this type of analysis overlooks one key thing. The MBA took me out of my comfort zone. It put me in a situation where I needed to listen to new ideas, read a broad range of materials, and tackle practical and intellectual challenges that I probably would have avoided.
Someone with incredible self-discipline and motivation could do all of this on their own without paying the massive tuition fees, especially as more and more MBA material is readily available online and you can tailor-make your own study through online programs offered by Coursera, Lynda and the like. The question is whether I would have done all that study on my own.
Honestly? I know I would not. So for a finite period of my life, the program forced me to prioritize and literally sit down, deal with the material, produce reports and meet a series of deadlines.
How much effort does it take?
When I took the leap and committed to 2½ years of study, the question was how much effort to put into it. Generally, when I make a commitment, I go all in and give it my best shot. So that would mean many many hours of reading, thinking and exploring different angles for each subject and assignment.
Each to his or her own, of course, and for various reasons, this was in contrast to some of my colleagues. They were clearly focused on getting the MBA, but perhaps not as focused on the actual learning and development along the way. Their choice was to spend just enough time on it so that they could pass what they needed to pass to get the MBA.
It was never going to be enough for me to just 'get through' the MBA. That would have limited personal value, and I wanted to prove to myself that I could achieve a consistently high level across all subjects. I can now admit that being awarded an MBA with Distinction (cum laude) is highly satisfying.
But I am convinced that the value of the MBA for me will come out of what I learned along the way and how it helps in my current and future work. The letters after my name will count for little themselves.
Expanding the field of knowledge
One of the most rewarding aspects was to be able to work on projects with different companies. For me, this added to my whole experience, because for each company I would have to do the groundwork about understanding its strategy, purpose, value proposition and key offerings. I found this highly interesting and motivating.
Projects included:
A business strategy for a transportation company
An internationalization strategy for an energy services provider
A change leadership project for a manufacturing company
An HR project for an airline
An internationalization and marketing strategy for a Chinese toy manufacturer
This was extremely valuable as I could get into details about many different functional areas. I also found that people at the various companies I studied were helpful, and I made sure to try to deliver them something of value in exchange for the time they spent in briefing me.
Relevant research
The final part of my MBA was a management research project. This was an opportunity to conduct extensive research into a particular subject and produce an academic report. Fortunately, I could combine this with my own area of professional interest, which certainly made it more worthwhile.
Being part of a well-reputed MBA program gave me a credible reason for contacting people. My research involved in-depth interviews busy CEOs and CMOs – which was never going to be easy. But those I contacted were generally very receptive to my approach and supportive of the topic.
Now for the party…
"Celebrate your successes," said Walmart founder Sam Walton. There's nothing like adversity to bring a group of people together. And let's face it, it is hard work getting through an MBA. Even for people who do not find it intellectually challenging, it still requires many hours' work and commitment to deadlines. It's difficult in the best of times, but even harder when done alongside work and personal commitments.
The catharsis of completing the small and large milestones along the way is even greater when you share it with others. Just that ability to look each other in the eye and 'know what it feels like' brings a great deal of shared satisfaction.
I was also fortunate enough to be part of a well-functioning team of six highly motivated, diverse individuals. In many ways, we fulfilled the criteria for a 'high-performance team', which was a hugely positive experience.
Which MBA provider?
The point of this article has been to share my own reflections on taking an MBA. It is not meant as an evaluation of potential providers, of which there are so many options.
That said, I'm happy to share that I took my MBA at the Henley Business School, University of Reading in the UK. There are many good reasons for choosing Henley, including the 'Henley experience', which can only truly be understood if you get the chance to visit the Greenlands campus at Henley-on-Thames. The teaching and reading material was generally very good and well-prepared. In particular, the specially made Study Guides will always remain in my library. Henley's online academic resources are highly impressive, too.
An MBA is a business, too
Universities and other institutions that offer MBA programs have their challenges, with some obviously under financial pressure. There's a growing realization that prospective students and their employers are questioning the value of an MBA. Judging by the number of my classmates who had to foot their own MBA bill, it appears that companies today are much less willing to sponsor such programs.
It is understandable then that MBA providers are much more interested in candidates from companies, rather than independent consultants. That's no reason for someone like me not to do it; it merely adds to the challenge.
In the face of stiff competition, MBA providers need to look for ways to develop their offerings. Henley Business School, for example, places significant emphasis on personal development. Its program is not just about covering the traditional business disciplines. Personally, I found this useful and rewarding, even if it is difficult to prioritize it amidst the realities of deadlines and other commitments.
Part of the personal and leadership development included a highly rewarding course in South Africa, where we got to extend our leadership skills in diverse situations such as the African savanna and the street stalls of Durban.
The bottom line
There will always be the lucky few who will get an immediate career boost after an MBA. Who's to say whether it was the MBA that made the difference? For most people, my advice would be to consider it seriously if you want to raise your own professional bar for your own reasons, not because you expect to walk into a higher paying job after your graduation. If you want an excuse to study, tick off a significant milestone, and enrich yourself along the way – then an MBA could be just the thing.
Postlude
Since first penning these reflections, I have now officially graduated with an MBA with Distinction from Henley Business School. The ceremony was suitably festive and formal, with the school going to its best efforts in rewarding individual students with recognition of their efforts. Amidst lots of smiles and satisfaction, it was a great way to catch up with familiar faces from workshops and lectures while recalling stories of our toils around the world.
I couldn't think of a more fitting way to close the chapter before we each move on to discover what the fruits of our labors may bring.
Are you up for the challenge?
Like this post? Subscribe now and get notified about new content!