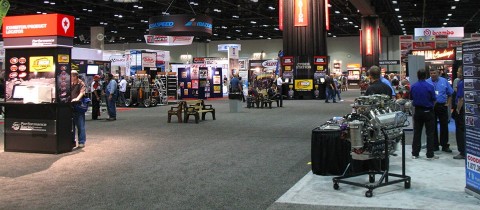 Beloved by sales departments the world over, trade shows are an excellent platform for marketing your business. From exhibition signage design to simple deal-making tips, read on to learn six immutable tips for successfully exhibiting at a trade show.
1. Don't be too 'salesy'
Many an inexperienced salesperson has blown great opportunities at a trade show by approaching it with the same mentality as they would a typical sales call. While trade shows are undoubtedly about sales, they rarely reward a hard sell mentality.
The reality is that trade shows are excellent for generating leads, and equally good for converting new leads into customers, but only if you have the right outlook and marketing approach.
Limit the hard sales talk that's typical of phone-based sales or cold calls and stick to a script that's built around organic lead generation. You'll follow up after the show – for now, stick to booking appointments and making new connections.
2. Avoid ineffective, 'noisy' signage
Your trade show signage should have a single goal: encourage visitors to enter your booth and speak to your sales staff. Anything else – flashy logos, funny taglines, and endless benefits – is a waste that's likely to hurt your sales more than it helps.
The best trade show booths limit their signage to displaying a few core benefits of their business. If your signs are plastered with features, products, and sales points, you'll confuse and alienate far more trade show visitors than you'll ever convert.
Avoid 'noisy' signage by working with a professional trade show banner designer to create something that suits your brand. Your displays are the first thing visitors will see from your business – try to make your first impression a good one.
3. Keep your message simple
From signage to sales pitches, your company's message should be simple and easy to prospects to understand. Remember that you're surrounded by competitors at a trade show, and that showing you're different is often the most effective tactic.
Before you exhibit at any trade show, think about the key advantages that you can offer prospects above your competitors. From great service to affordable pricing, use your top benefit to create a sales pitch that separates you from competitors.
There's nothing worse than a trade show exhibit that doesn't know what it wants to be. Keep your message focused and simple and you'll attract the type of visitors you want, not the type that are 'just dropping in.'
4. Make your booth engaging
From product demos to interactive displays, adding a level of engagement and fun to your booth is an excellent way to attract prospects. Google did this brilliantly during the 2012 Mobile World Congress in Spain with its playground-style Android booth.
Trade shows might be all business, but they don't have to be bland or boring. Make your booth an inspiring, engaging island of fun in a sea of corporate exhibitions and you'll attract potential customers and clients interested in what you have to offer.
Great examples of booths that are engaging and fun yet still commercially viable include Nintendo's 2006 E3 booth and Apple's Macworld 2008 booth. Deliver an engaging, fun experience and your exhibition will never be short on visitors.
5. Don't be afraid to qualify
There's a silly misconception that all trade show leads are good leads. Not so. While trade shows tend to generate high quality leads, you'll still have to deal with a large amount of time-wasters and window shoppers that aren't truly interested.
Encourage your sales staff to focus on building leads and closing deals, but don't be afraid to let them drop out of a potential sale if it doesn't seem to be worth it. Trade shows are all about live interaction, and time spent on a flakey sale can be a waste.
On the other hand, if you feel that a visitor is showing great interest in your product or service, don't be afraid to escalate. While being pushy to new visitors will quickly alienate them, people that express interest can often be closed on the spot.
6. Keep your booth adequately staffed
One of the most common trade show mistakes is staffing. Instead of staffing their trade show booths perfectly, many businesses mistakenly put too few or too many employees in their booth.
If a prospect comes to your booth and expresses interest in working together, you'll want to pull the 'let's get coffee' line to close the deal. This means staffing your booth with enough salespeople to bridge that gap during periods of peak activity.
At the same time, having too many employees in your booth creates an awful 'empty booth' look that will discourage prospects from entering. Try to strike a balance for the optimum combination of desirability and on-site closing abilities.
Like this post? Subscribe now and get notified about new content!