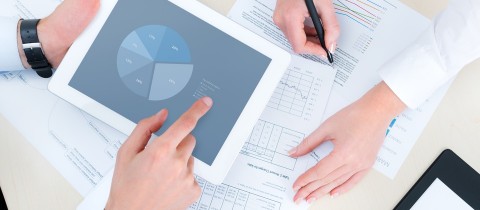 Content can be the most effective resource in your marketing toolkit — especially if it's based on research.
Reporter Nick Clunn recently wrote an article based on a little-noticed study that showed many school districts didn't adequately protect student information. His article took a cumbersome study published by Fordham University's Center on Law and Information Policy and turned it into an easily readable and interesting piece. This is a great example of using market research to produce content relevant to your readers — in this case, every teacher, student, and parent in the country!
Excellent content targets your customers' interests, addresses problems they face, and delivers timely, applicable advice. Premium, powerful content is possible only through research. Research helps determine your target audience and demographics, the publications they read, their favorite topics, and the problems they face.
While many people think the word "research" already sounds like a lot of work, there are simple tactics you can use to increase the value of your content.
1. Read industry publications.
Stay aware of trends in your target industry by reading relevant publications. Trade journals and research publications offer dense, often dull, content that doesn't appeal to the average reader. However, by staying in touch with these publications, you can unearth interesting or controversial topics.
You can then summarize those findings in a digestible format on an industry website. If you soak up information and shape it in an approachable way, you reach people with valuable information they might not otherwise see. Your audience stays informed, and you stay relevant.
2. Research the census.
The census seems dull and inaccessible on the surface, but it contains a vast well of information on industries and the economy that you can use effectively. For example, if you're targeting small businesses, census data will show which industries have a large number of small businesses. You could then develop content for those industries to target those specific businesses.
3. Conduct your own research.
A simple survey is a great way to reach out to prospects and engage your customers, and it's not nearly as hard as it seems. Elicit customer feedback to gain insight into your market, and then write an article based on the results. You can combine or compare your own insights with existing research to produce compelling, relevant content. Share your article with the people who completed your survey to stay ahead of your target market.
4. Research your previous efforts.
Services like Followerwonk can show you what kind of content your Twitter followers prefer, as well as how many followers you've gained or lost as a result of past shares. While not impeccably precise, this research can give you insight into what is or is not resonating with your demographic.
5. Follow the influencers. 
Track the content that influencers in your target industries are sharing or creating. Even more importantly, look at what they're ignoring. While it's easy to piggyback on trends that other leaders are setting, the real payoff comes from writing content on topics they're missing. Talk to people in your target market, and read through comments on popular articles to understand your audience's desires.
A little extra work to determine what kind of dynamic content reaches your audience can have a dramatic payoff. The short-term goal of content is to offer valuable industry insights and advice. However, you don't want to lose track of the ultimate goal: sales. By producing the type of content your audience finds valuable, you'll have them engaged and looking to you (and your business) for solutions.
Like this post? Subscribe now and get notified about new content!